We had the pleasure of hosting Dr. Raphael Bostic, the President and CEO of the Federal Reserve Bank of Atlanta, on Saturday, August 7. Raphael was up for a mid-week talk at Chautauqua Institution. He and his husband, Jeff Taylor, are big birders and familiar with Roger Tory Peterson and the Peterson Field Guides.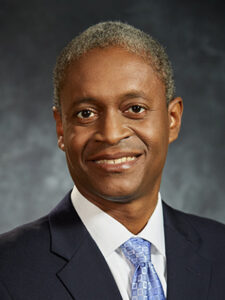 Accompanying Raphael and Jeff on their visit were Tom and Jane Becker – Tom is the former President of Chautauqua Institution – along with a few other Chautauqua residents (the Renjilians and the Robbins).
Jeanne Wiebenga, the featured photographer of the recent Art of the Osprey exhibition and also a Chautauqua resident, and Arthur Pearson, CEO of RTPI, gave everyone a tour of the museum and the exhibition.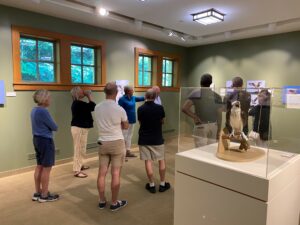 We really enjoyed having Raphael and Jeff here and are thrilled to learn that the feeling is mutual. Here is how Raphael started his talk at Chautauqua Institution on Wednesday, August 11:
"Thank you for the kind introduction. I'd like to thank the Chautauqua Institution for inviting me to this beautiful, stimulating setting alongside an impressive roster of speakers.
My husband and I got a chance to spend a few days here last weekend to relax a bit and it was delightful. We are birders, so we especially enjoyed our tour of the Roger Tory Peterson Institute. I must say, when I think of taking a working "vacation," this is pretty close to an ideal situation."
A transcript of Raphael's thought provoking talk regarding an economy that works for all can be found here.
We hope that Raphael and Jeff will be back next summer and that birders from all over the US and the World will come visit us.
Interested in a tour? Give us a call (716.665.2473) or send us an email (info@rtpi.org).