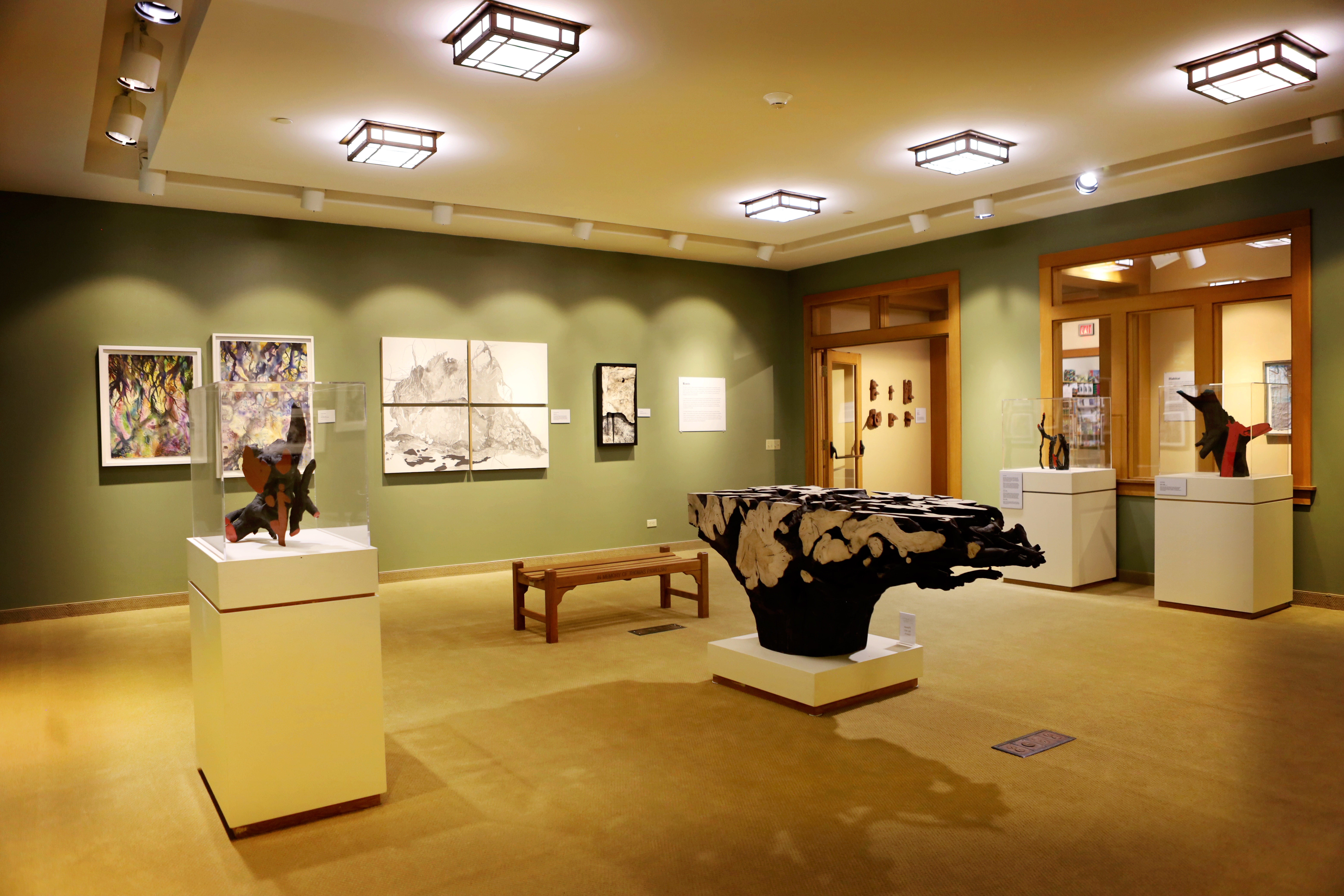 Development Director – We're Hiring!
We're expanding our team to help us grow our base of supporters in pursuit of Art that Matters to the Planet.

(Gallery photo by Kim Weber)
Position:         Development Director
Reports to:     CEO
Status:            Full-time, exempt
Salary:            $80,000 – $85,000 plus a generous benefits package
Location:        Jamestown, NY preferred; hybrid possible
Start Date:     Desired start date Fall 2023, no later than January 2024
The Opportunity
The Roger Tory Peterson Institutes seeks a creative, entrepreneurial, and highly motivated individual to lead our development efforts. The role of Development Director for RTPI is brimming with potential. With the adoption of a new strategic vision in 2021, RTPI is a nature art museum emerging as a national epicenter for Art that Matters to the Planet; for nurturing the next generation of nature artists.
In close collaboration with the CEO and as a member of the senior leadership team, the Development Director will play an integral role in setting strategy and building the capacity needed to fulfill our new strategic plan goals. With a strong commitment to inclusion, diversity, equity and access, RTPI seeks to expand its audience significantly, inclusive of low-income families, indigenous peoples and communities of color.
The ideal candidate will have a solid track record building fundraising programs for cultural organizations, and meeting/exceeding fundraising goals. They will take pride in working collaboratively with staff and a governing board of directors. They will be team players and community builders. They will positively contribute to an already strong staff culture.
This is a unique opportunity to make a difference, to help lead the adaptive evolution of a 40-year-old organization to become locally relevant, nationally significant, and financially resilient.
About Roger Tory Peterson
"As a naturalist, Peterson has the soul of an artist and as an artist the soul of a naturalist."
Roger Tory Peterson's art mattered to the planet. Trained as an artist, Peterson understood the power of art to inform, inspire and illuminate people about the natural world. His groundbreaking illustrated field guides allowed for easy, accurate identification of birds (and many other plant and animal species) in the field. The experience of using his field guides has helped millions of people across the globe to really see the natural world. To be inspired by it. To fall in love with it. Throughout his multifaceted career, Peterson helped us to see the challenges, too – the devastating impacts of pesticides, habitat loss and other environmental ills.
Roger Tory Peterson (1908-1996) remains a household name, with a national – even international – brand. First published in 1934, the Peterson Field Guide to the Birds, currently in its seventh edition, remains the best-selling field guide of all time. There are currently some 65 titles in the famed Peterson Field Guide series (now published by HarperCollins), which remain among the most popular sellers. (NOTE: RTPI receives no royalties or other compensation on the sale of the guides, although each field guide includes a frontispiece about RTPI.)
About the Roger Tory Peterson Institute
Founded in 1984, RTPI pursued a nature education mission throughout much of its history In 2021, the board of directors adopted a new strategic vision: to transform into a nature art museum of national significance. RTPI will inform, inspire and enlighten a large, diverse audience through exhibitions and programming at the nexus of art and conservation. It will nurture the next generation of nature artists. It will drive tourism to the greater Jamestown community. It will build the necessary operational and financial capacity to be a model of nonprofit sustainability.
Home to the largest collection of Roger Tory Peterson's original artwork, films, slides and papers, RTPI hosts three major nature art exhibitions each year. RTPI's signature annual exhibition is Art that Maters to the Planet. More than 100 artists from all over the country submitted work to this year's exhibition, Art that Matters to the Planet: Interconnectivity, which focuses on trees and their network of interconnected roots.
What our artists are saying about this exhibition: "For me, art is at its best when it emotionally touches those who see it. To have a show where every piece has emotional impact, as the art in this one does, is in my experience rare. That the show also exposes so many approaches to and aspects of trees to its audience makes the exhibition all the more intriguing and impactful. [Curator] Maria [Ferguson] said that each year you will be focusing on one of the topics of the Peterson Guides. Considering the importance of his work to people interested in nature across the country and the world, this seems like a perfect approach for RTPI." (Sallie Lowenstein)
What our visitors are saying: "I am a retired environmental scientist from Westchester County, NY. I have always wanted to visit your museum and this year I made the time to do so. The visit exceeded my expectations. I was stunned by the mastery of both floors! I have studied the books by Suzanne Simard and Peter Wohlleben and your display captures the imagery of the intersection of science, nature, art and – for me – spirituality. You interspersion of Peterson's bird portraits was a creative linkage to the "patron saint" of your museum. Thank you for blessing my day with inspiration."
Development Director – Position Overview

Reporting to the CEO, the Development Director oversees all fundraising programs, including annual giving, memberships, major gifts, planned giving, capital funding, fundraising operations, government and foundation support, and related communications.
The Development Director will work closely with the CEO in developing major philanthropic opportunities, while maintaining their own portfolio of major donors.
As part of RTPI's senior leadership team, the Development Director will develop and execute all fundraising programs, as well as participate in the overall management, governance, strategic planning and success of RTPI.
Core Responsibilities
In collaboration with the CEO, design and implement short- and long-term plans for a comprehensive development program that comprises fundraising and communications.
Fully support the CEO in major giving strategies, solicitation and stewardship of donors.
Identify, cultivate, solicit, and steward donors and prospects.
Seek new giving strategies that focus on increasing overall support for operations and endowment.
Design and oversee annual fundraising budget with specific targets for annual giving, planned giving and institutional giving.
Plan and oversee internal and external communication strategies, including production of the annual report
Coordinate with Marketing and Communications Officer to engage donors and members through monthly e-newsletters and related communications efforts.
Oversee and manage the membership program.
Staff and provide leadership for the Board Development and Communications Committee.
Work closely with board and staff to foster an organization-wide culture of philanthropy.
Additional Responsibilities
Participate in staff meetings, program team meetings, board committee meetings, and board meetings.
Work collaboratively with staff in the design and execution of programs and special events.
Serve as an ambassador for RTPI.
Perform other related duties as assigned.
Education and Experience
Minimum Bachelor's Degree, preferred Master's Degree
Minimum five to ten years of progressive fundraising experience developing and implementing successful learning and engagement programs.
Proven success with annual fund campaigns and major gift fundraising; experience with planned gifts a plus.
Experience with government grants – namely NEA, NEH and IMLS – for culture organizations.
 Core Competencies
Genuine passion for the mission of RTPI.
Exceptional project management skills.
Exceptional people skills.
Exceptional problem-solving skills.
Ability to manage simultaneous priorities and to meet deadlines.
Ability to maintain a flexible work schedule.
A collaborative, team mentality.
Intellectual curiosity.
Location
Hybrid is possible, with regularly scheduled time on-site in Jamestown, NY. However, full-time on-site is preferred. Jamestown, the birthplace of Roger Tory Peterson, is located in Western New York, 1.5 hours south of Buffalo, NY, 45 minutes east of Erie, PA. In addition to the Roger Tory Peterson Institute, Jamestown is home to the National Comedy Center/Lucy-Desi Museum and the Robert H. Jackson Center. Located 30 minutes to the north, on the shores of Lake Chautauqua, is the Chautauqua Institution. There are numerous wineries, along with local nature preserves, state parks and national forests within a short drive. The Chautauqua region is a popular tourist destination year-round.
Compensation
The starting salary is between $80,000 and $85,000 plus a generous benefits package, including health, vision, and dental insurance, and an employer-funded 403(b) retirement plan.
Equal Opportunity
RTPI is committed to the principle of equal employment opportunity for all employees and to providing employees with a work environment free of discrimination and harassment. All employment decisions at RTPI are based on organization needs, job requirements and individual qualifications, without regard to race, color, religion or belief, family or parental status, or any other status protected by laws or regulations. RTPI will not tolerate discrimination or harassment based on any of these characteristics.
How to Apply
Please email resume and cover letter to: newhire@rtpi.org and include "Development Director" in the subject line.