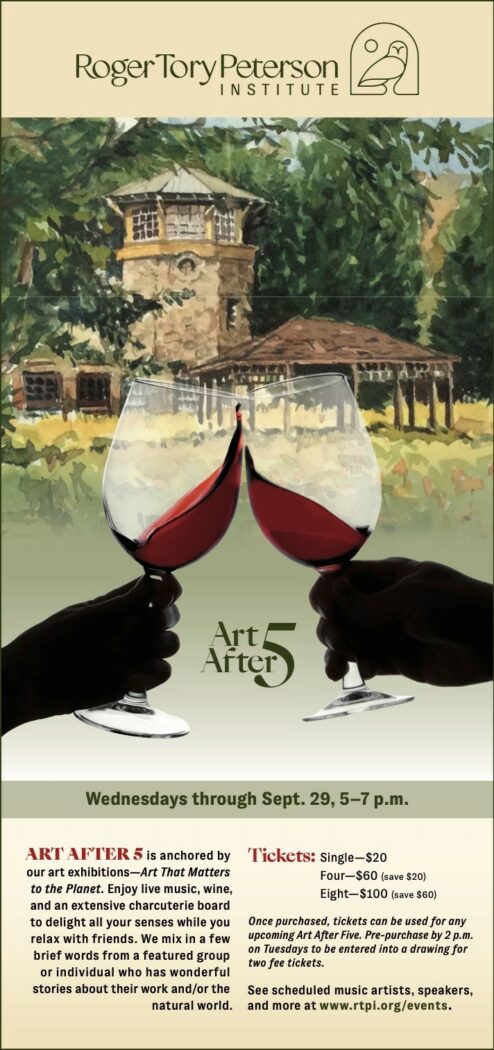 Kick off the new year of Art After Five and see the changes we have made to these events. What's new in 2022?
– A greater variety of musical performers, to start. The Assembly will be the first new group performing at Art After Five this year.
– A diverse selection of wine, beer, cider, and non-alcoholic beverages to enjoy.
– Deeper dives into art and conservation through programs that you can attend for no additional charge. For example, Collections Curator Maria Ferguson will be talking about photography starting at 6:30 p.m. on February 25.
What hasn't changed? Great art, great food, and the wonderful ambience of the Lodge at RTPI.
Each ticket includes:
– Admission to the museum
– Full access to the art
– Full access to the music
– Full access to the food
– One drink (Additional drinks available for purchase)
Individual tickets are $20 the day of the event. Save money by pre-purchasing your tickets ($2 off individual tickets) or buying a four-ticket pass for $60 ($20 savings, $15/ticket) or an eight-ticket pass for $100 ($60 savings, $12.50/ticket).
Upcoming Art After Five and Exhibition opening dates:
March 25 (Friday) – A celebration on the first Friday of Spring
April 27 (Wednesday) – A special Art After Five for members & donors to celebrate the opening of The Art of the Field Guide
May 25 (Wednesday) – The start of our weekly Art After Five events: every Wednesday until September 14