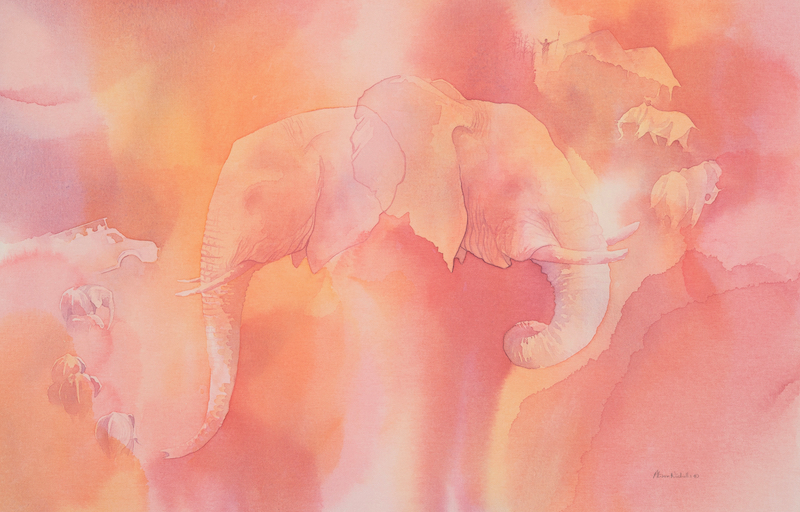 Artist Spotlight: Alison Nicholls – Conservation-themed Art Inspired by Africa
Alison Nicholls discusses her conservation-themed paintings, explaining how she chooses a conservation issue, works out how to represent it in a painting, selects an interesting composition, then creates the finished artwork. Field work is an important part of her process, and she will show images from the field and the studio as she speaks about art, conservation and Africa. One of the paintings she will focus on is Elephant! Tembo! which is part of the current RTPI exhibition Art That Matters to the Planet by members of the Society of Animal Artists. This painting contrasts two widely differing opinions of elephants  – those held by tourists who visit Tarangire National Park in Tanzania, and those held by local Maasai pastoralists resident outside the national park. Alison explains how time spent sketching in Maasai communities in Tanzania gave her the idea for the painting, and how she has used the painting in the US and in Tanzania to explain the alternative attitude to elephants.

Photo: African People & Wildlife/Deirdre Leowinata
Alison Nicholls is an artist inspired by Africa. She lived in Botswana and Zimbabwe for nearly 9 years and returns regularly to sketch, work with conservation organizations, and lead Art Safaris for Africa Geographic. She is a Signature member of the Society of Animal Artists and Artists For Conservation; a member of The Explorers Club; an artist member of the Salmagundi Club (NYC); and is on the International Advisory Board for African People & Wildlife (a community conservation organization based in Tanzania). Alison's work has been widely exhibited and she makes a donation to African conservation from every sale. She is English by birth but has lived in Port Chester, New York for the last 19 years. To see more of Alison's work please visit www.ArtInspiredbyAfrica.