Field Guides: A Conversation with Frank Izaguirre
You must register to receive the Zoom link.
---
Please join us for a program by Frank Izaguirre, Editor of the American Birding Association's Birding magazine, as he discusses how field guides have influenced the way people conceptualize the world around them.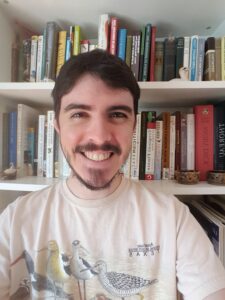 What do field guides do? This simple question may have a more complicated answer than one might realize. In this program, Frank will discuss the way that field guides shape the way people think about animals, plants, and the many other things they depict. He will cover 1) the values and conventions of early natural history texts from author-naturalists like John James Audubon,  2) Roger Tory Peterson and his Field Guide to the Birds, including the Petersonian template that became the standard for the modern field guide, and 3) contemporary and future field guides. Field guides have profoundly changed the way people think about the world, and after this program, you may see field guides in a new way.