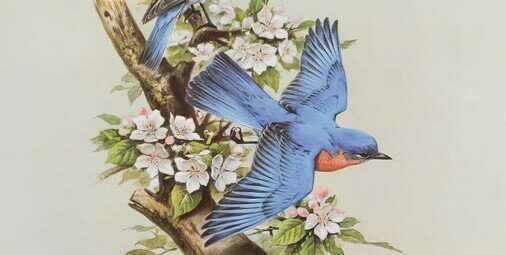 In New York State, Roger Tory Peterson is synonymous with bluebirds. Born and raised in Jamestown, New York, it's only fitting that Roger's painting of an eastern bluebird — the state bird of New York — graces the personalized license plate that encourages everyone to "Conserve Open Space."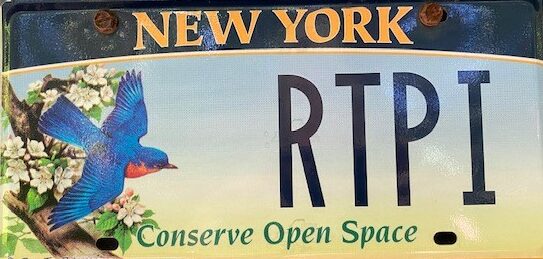 Visitors to RTPI have an excellent chance of seeing live bluebirds in the Peterson Preserve. In 2022, RTPI established a new bluebird trail. Guided by "The Bluebird Lady," Elaine Crossley, Chautauqua County Coordinator of the New York State Bluebird Society, and with help from Boy Scout Troop #162, we installed six new bird houses on sturdy posts, with baffles to keep curious critters at bay.
"I first learned about the plight of the Eastern Bluebird in 1968," Elaine shared with us, "when they were very rare due to the decrease in nesting habitat and competition from starlings and house sparrows." The New York State Bluebird Society was organized in 1982 to encourage nest boxes be erected to replace lost natural cavities.  The Eastern Bluebird, Sialia sialis, can be found in open woodlands, farmlands, and orchards. The decline of bluebirds was recognized in the 1950s and 1960s. More than 30 years of successful programs have helped restore the nesting population of the Eastern Bluebird and other cavity nesting species.
Elaine added, "Anyone can help the eastern bluebird by making and erecting nest boxes". For more information on how to make a nest box she recommended visiting the NYS Bluebird Society's web site at www.nysbs.org.
This year, RTPI hired an intern to monitor the next boxes, to develop protocols for long-term monitoring, and to initiate a volunteer monitoring corps. If you're interested in volunteering to be a nest box monitor, please contact Tina Preston, at 716-665-2473 x227.