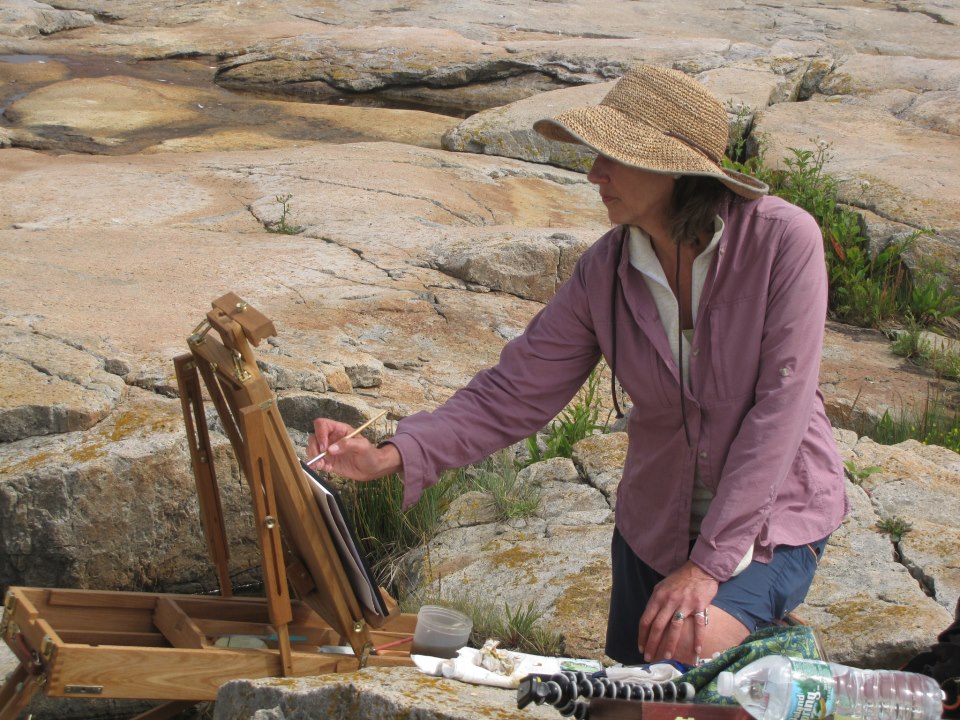 Dorie Petrachko visited RTPI for a week in August to study specifically Roger's drawings and paintings of Corvids (Ravens and Crows). Dorie is currently working on a post-residency project, to create a series of artworks, based upon her research, observation, and interviews regarding the changes in behavior of these social birds. She plans to interview birders and citizen scientists who have had direct experiences with Ravens and/or Crows in New England in the past 10 years. Several of these individuals are members of the New Haven Bird Club or have done research on nesting Ravens at West Rock in Woodbridge, CT. One of her references will be Bernd Heinrich, an author and authority on Ravens. She is also planning to do her own observations of Corvids in her geographic area, taking photos and videos, and compiling data for a series of drawings and paintings to share in a future exhibit.
Traveling and painting birds to benefit bird conservation and species preservation is a lifelong passion for Dorie. She is committed to using her talents to educate people about our rapidly changing environment, and the need to protect its species worldwide.
Dorie is an award-winning wildlife painter who has exhibited and published her work nationally and internationally. She is the recipient of numerous awards and fellowships including the Don Eckelberry Fellowship for wildlife painting from the Philadelphia Academy of Natural Sciences, the Julia and David White Artist Fellowship in Costa Rica, and the Big Cypress National Park residency in the Florida Everglades. She holds a master's degree in art education from Southern CT State University and a certificate in Botanical and Natural Science Illustration from the New York Botanical Garden. A founding instructor of the Yale Peabody Museum of Natural History's Natural Science Illustration Program, Petrochko teaches classes in drawing, watercolor, mixed media, and colored pencil and is an active member and exhibitor of the New England Guild of Natural Science Illustrators.
You can view more of Dorie's work here.