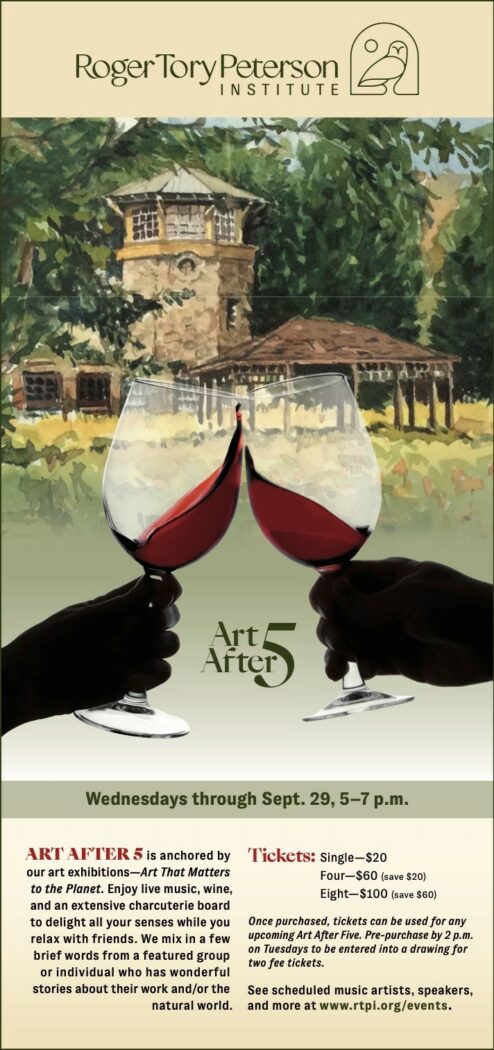 Art After Five has shifted to a new time for the remainder of September. We are also offering a discount for purchasing your tickets at least a day in advance.
Join us from 5:30-7:30pm for the final weekly Art After Five. Enjoy the Art, music by the Dalton Berringer Duo, wines from Johnson Estate Winery, and a full charcuterie table from Elegant Edibles Catering. Our featured guest this week is our very own CEO, Arthur Pearson. Arthur will briefly talk about our upcoming program in collaboration with the Buffalo Audubon Society regarding bird strikes and light pollution.
Individual tickets are only $20 the day of the event. Pre-purchase your tickets by the end of business on Tuesday to receive a 10% discount ($18/ticket). A four-ticket pass is only $60 ($20 savings, $15/ticket) and an eight-ticket pass is $100 ($60 savings, $12.50/ticket).
Art After Five will be held once a month during the fall, winter, and early spring, with October 22 penciled in for the October date. Check back soon for the full cool weather schedule of Art After Five events.