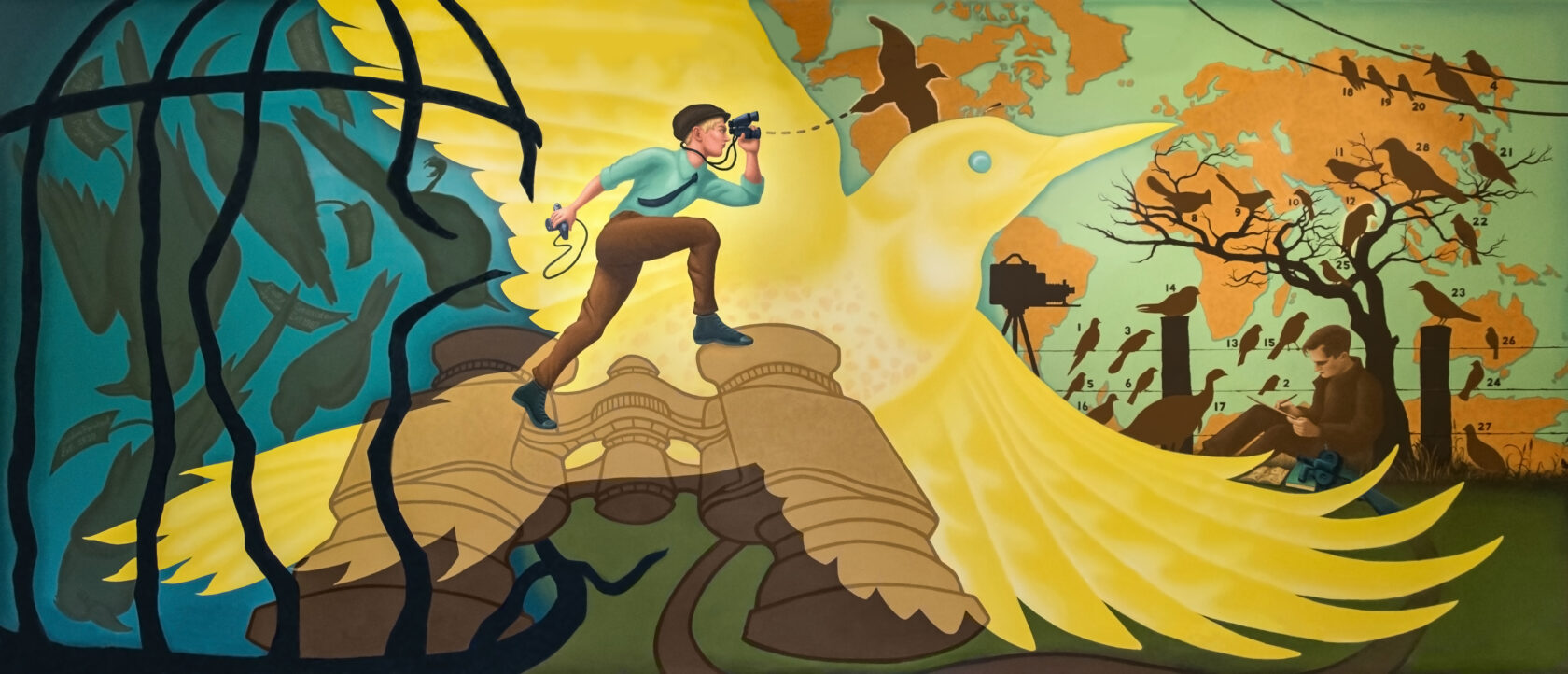 There's always something new to discover at the Roger Tory Peterson Institute! Our museum and trails are filled with art and nature experiences for all.
For our younger visitors, we offer scout programs and field trips. Plan a field trip and explore all that we have to offer. Students can hike the Peterson Preserve while searching for sculptures along the trails and explore our historic building while learning about our current nature art exhibitions. To plan and schedule a field trip, reach out to Madelyn Card, Learning and Engagement Coordinator at mcard@rtpi.org or call 716-665-2473, ext. 234.
We currently partner with Girl Scouts of WNY and have the following upcoming events. Click the links to register.
Sunday, October 8: Art and Design in Nature (Daisey/Brownie/Junior) Time: 10am-2pm
Have you ever been in awe of the beautiful natural scenery around you? Do you want to learn how to draw it on paper? Drawing nature and landscapes is a fun way to spend time outside while also enhancing drawing skills. Come express yourself and appreciate all the amazing creations around us – and don't worry, we're going to share how to create a beautiful nature drawing step by step. Join us as we talk about the shapes, color and structure of nature. Please bring a packed lunch. Snack and badge are included. Admission is $14 for any Girl Scout.
Sunday, October 22: Math in Nature (ALL 3 Badges – Daisy/Brownie/Junior, 1 day) Time: 10am-3pm
RTPI takes the classroom outdoors to explore the natural world around us and learn about Math in Nature. Activities include discovering shapes and patterns in natural objects, learning about symmetry and tessellation, and mastering time and measurement theories. GS will hike and draw their own trail maps of the Peterson Preserve and then create pinecone bird feeders to make and take home. Please bring a packed lunch. Snack and badge(s) are included. Admission is $26 for any Girl Scout.
Sunday, November 5: Adventure: Night Owl (Evening event – Cadette Only) Time: 5-6pm *AFTER-HOURS event – trail walk begins at 5:15 and ends at 5:45
Join us at RTPI as we conclude Daylight Savings Time and hike the Peterson Preserve at twilight during this special after-hours event. See nature in a brand new "light" as we discover how nocturnal creatures such as owls and bats are active at dusk. Girls will also learn about why artists like Vincent Van Gogh were so inspired by the night sky. Small flashlight encouraged. Badge included. Admission is $14 for any Girl Scout.
Sunday, January 14: Woodworking (Cadette Only) Time: 10am-3pm *with Special Guest, Elaine the Bluebird Lady
Learn how to use wood to make a house for bluebirds! You'll develop your woodworking skills by creating a -wooden bird house, then learn about the birds that will make it their home. Please bring a packed lunch. Snack and badge are included. Admission is $38 for any Girl Scout. All woodworking tools & materials will be provided. You will leave with a completed, RTPI approved birdhouse with additional resources to help you install and maintain.